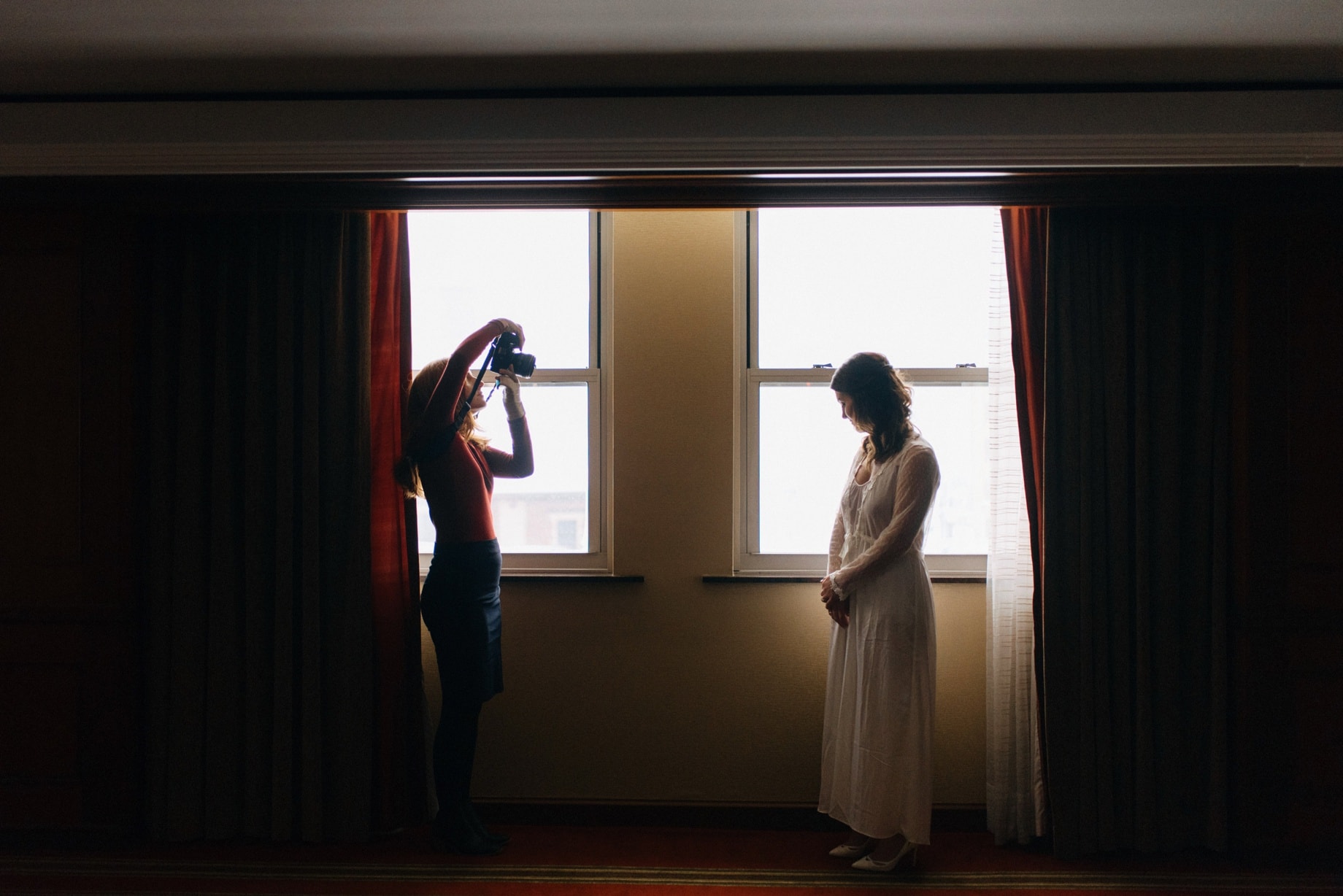 Here I am photographing a Detroit Athletic Club wedding with a broken hand. "So what happens if you get hurt?" I've been asked some version of that question at almost every single consult I've ever had. It's a reasonable question. They're considering booking me, a singular person, to photograph a day that can't be repeated. It makes sense that they would want to know what the contingency plan is.
I shot this wedding on January 19th of this year in Detroit, MI. On January 14th, 5 days before, I was thrown from a horse in Havana, Cuba. Sounds badass, right? It was. I wrote about it on my personal instagram if you want to know more.
So I got hurt and I shot the wedding anyway. Sure, I hired a second shooter out of my own pocket to help out. Shout out to Alora for getting this shot of me working with the urgent care brace on my hand. She also yelled at me all day for doing things I had no business doing, like moving furniture and climbing on things.
"So what happens if you get hurt?" I think I'll let this picture do some of the talking for me. This is what happens if I get hurt. I show up and I shoot your wedding anyway. Unless I'm in a coma or something, which would be rough for you, but even rougher for me.
It's a huge honor to be chosen to photograph someone's wedding day. I take that responsibility very seriously. The couples that hire me have searched through scores of websites, taken a deep dive into the portfolios of multiple photographers, had a few phone calls, went to several consults, and reviewed a couple contracts. At the end of all that they've ultimately have seen something in my work that has lead them to choose me. That's a big deal, and it was a big deal for me to be there for Kristen and Tim on January 19th, regardless of how my hand was feeling.
So on to Kristen & Tim, because this post is also about them. You may have already seen them on the blog with their very adorable dog. My 2019 season is winding down and I'm going to get in the habit of blogging here more regularly, so it only makes sense to start with them, since I started 2019 with them. Their wedding a the Detroit Athletic Club was a stunner, understandably since Kristen's good friend Katie is a fabulous wedding planner who put together an amazing team including florals by Ines & Marie, always a favorite. Winter weddings come with their own set of challenges, especially when Michigan decides to throw down a cool 6 inches of snow, but Kristen & Tim didn't let the weather get them down, even when I brought them to a blustery snow covered rooftop to end the night.
After all, if you're gonna get married in January, there might as well be snow.