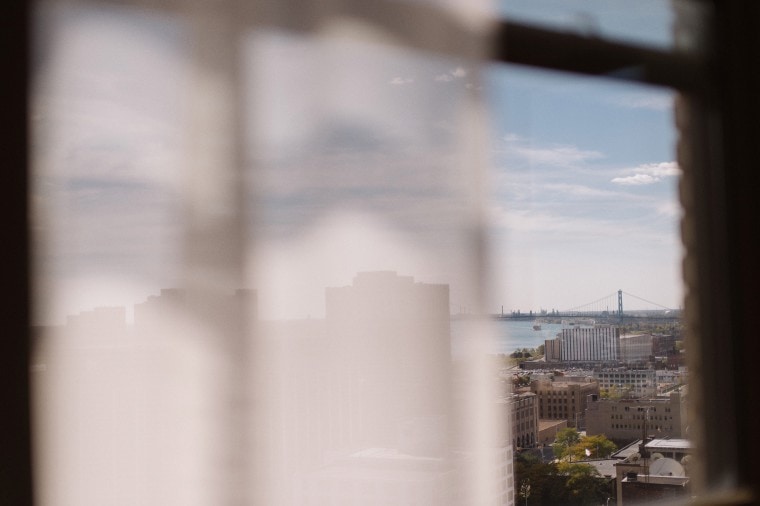 I've always been inspired by old places, places that have a history, places that have a soul. I live in a 160 year old home with creaky crooked floors, cracking plaster walls, and handmade support beams in the dirt basement. Lea and Terry's wedding at the Gem Theater was my first time photographing that place, and I've since added it to the ever growing list of old places that inspire me.
Detroit is filled with places like this, if you know where to look for them. The city has a soul about it that is unmatched in any other city I've been to. I think, in an odd way, the economic decline that Detroit faced in the middle of the 20th century, preserved that soul. While other cities were flourishing, and knocking down their architectural heritage in order to build glass skyscrapers as idols of industry and progress, Detroit was left behind, and the beautiful art deco buildings of a long since bygone era, were allowed to stay standing. The brilliant metalwork of the Fisher Building, the sweeping murals in the Guardian, the intricate indo-asian sculptures of the Fox Theater, the intimidating edifice of the Masonic Temple, and the gilded ceilings of the Gem Theater all remain, as reminders of a time long past, and a once great city that is on it's way, once again, to greatness.
Lea and Terry's wedding at the Gem Theater harkened back to that era, drawing on the spirit of the building as inspiration. Every aspect of the wedding was carefully planned to give guests the feeling that they had stepped back in time, to a moment where the Gem Theater was still home to fantastic cabarets and glamorous socialites. We spent time taking portraits at Indian Village, one of Detroit's historic neighborhoods, and the Detroit Public Library, another spectacular piece of architecture in the city, and it was one of those glorious fall days, just a little warmer than you'd expect for October, with the most beautiful light filtering through crimson and orange leaves.
So this post is about love. Not just about Lea and Terry's love, but about my love for old spaces, long may they stand.