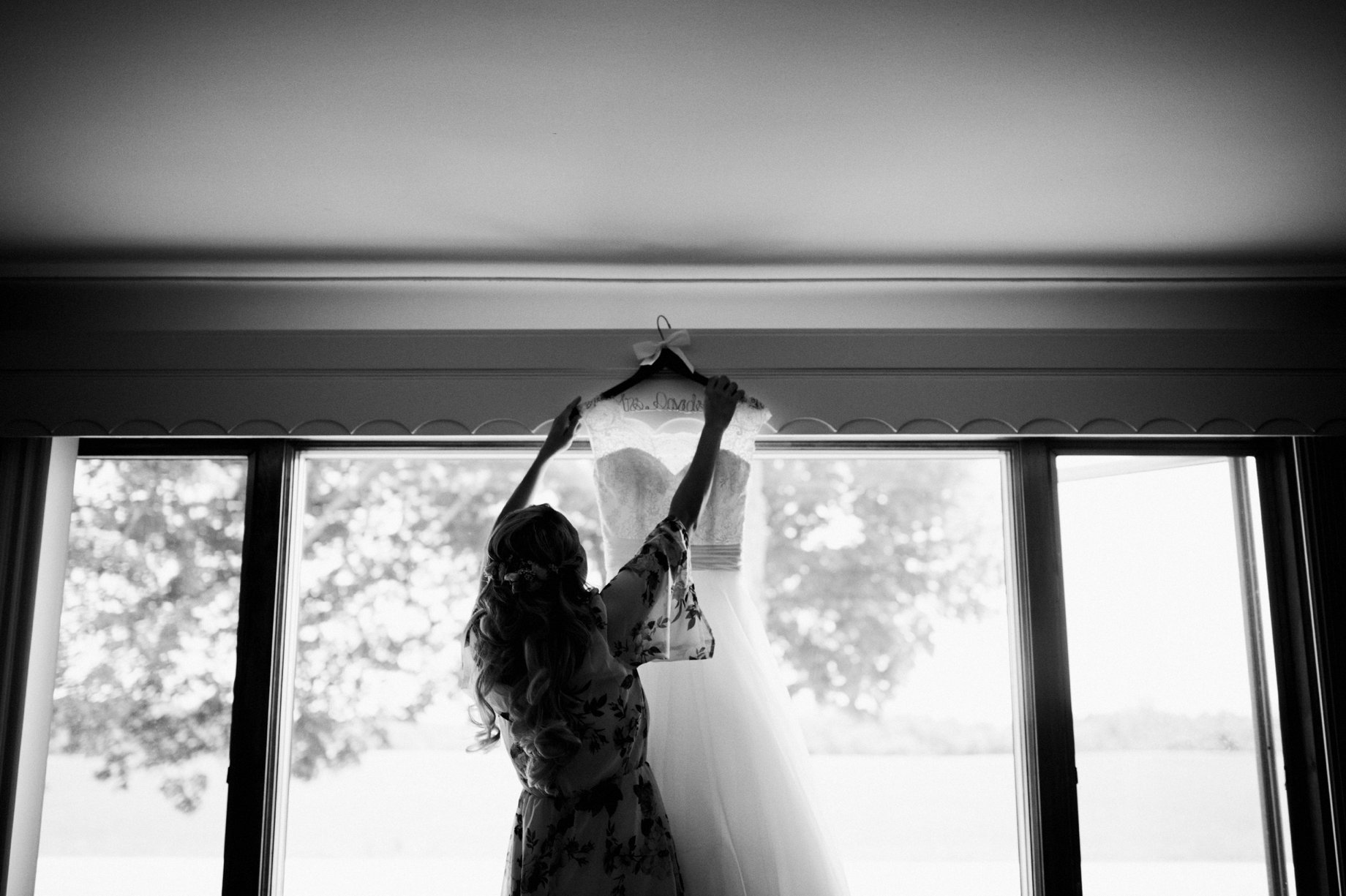 Most my weddings are at least an hour away, but seeing as Katrina is a local girl that I first met when she was all elbows and knees playing in my cousin's backyard, this one was a little closer to home. A 16 minute commute, if you care to be exact. I feel like we tend to not see what is truly incredible in our home towns. I have to be honest that leading up to this wedding, I was feeling so so about shooting in such familiar grounds. I thought the familiar surroundings of the city I live in wouldn't be inspiring, that I'd have a hard time seeing past the well worn spots I've used over and over again throughout my career. Saying I couldn't have been more wrong may be an understatement.
This was my first time photographing a wedding at the Bean Dock in Downtown Port Huron. I found the space to be so exciting and inspiring. I practically sprung out of my chair during dinner when I saw a freighter going by out of the glass doors. A plain blue wall in the unused half of the venue made all my happy photography synapses fire at once. We stepped away after the ceremony to a park I have probably driven by 100 times and never walked in, and the large trees and the way they cast shadows just felt right. It was one of those days behind a camera where you're looking down every few minutes and mentally high-fiving yourself. I was wrong. You can absolutely be inspired by well worn places you frequent often.
What helped most in inspiring me that day was the people I was working with. I try to take a minute in my car to jot down little notes about my weddings before I leave. I forget more often than I remember, but on June 4th I managed to remember. "There's a sweetness and a joy to Katrina that is a rare find these days. It's infection and inspiring. I can't blame Jeremy for wanting to spend the rest of his life with it."
Katrina experienced the day with such enthusiasm and joy, and Jeremy was the perfect foil to that: cool and steady. During every open mouthed hearty laugh from Katrina, Jeremy was at her side admiring it. They put the emphasis on a wedding day where it matters, on family. Jeremy's parents stood by his side as he watched Katrina walk down the aisle with her parents, as opposed to participating from the front row.
During dinner, Jeremy, a talented video editor, had made short films with interviews with all the major players. We got to watch his mother recount the day she went into labor with Jeremy just moment's before they shared their mother & son dance, we got to hear about how Katrina & Jeremy befriended every member of their wedding party and the story of how Katrina & Jeremy met and fell in love. Each moment of the day was augmented by it's context and history.
I've said it a lot, but in case you haven't heard it from me in a while, I will repeat myself: The best thing you can give your photographer on your wedding day is your trust. These two trusted me, implicitly, and that makes all the difference. They didn't bat an eyelash when I walked up to them with two umbrellas and asked them to step out into the rain. They didn't micromanage me or send me a list a mile long of what they wanted. They simply wanted someone to tell their story, and they trusted me to do it.
Katrina & Jeremy, thanks for giving me your trust. I hope I honored it.